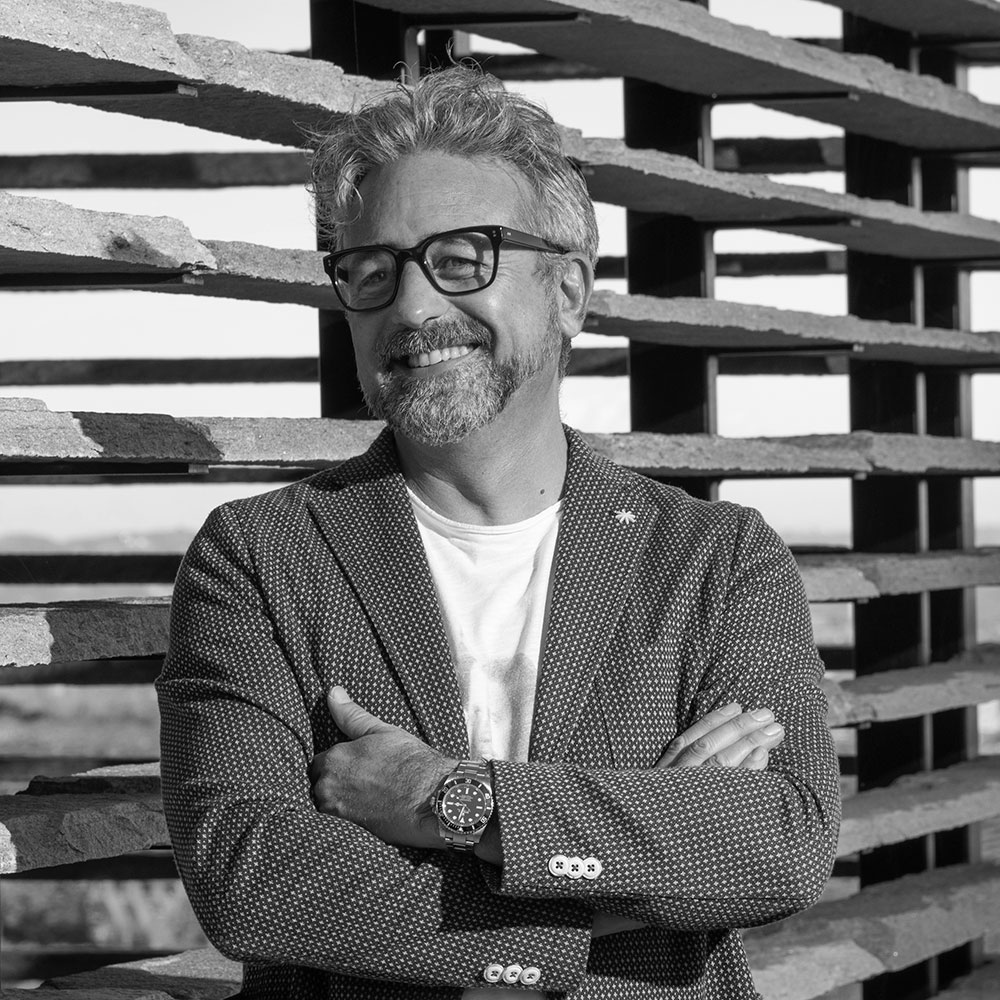 Gianluca Tomaselli
Architect / Founder
Sono nato nel 1968, mi sono laureato in Architettura al Politecnico di Torino nel 1996 ove ho conseguito anche l'abilitazione professionale nel 1997.
Iscritto all'ordine degli Architetti e Paesaggisti di Torino (n. 4642), ho collaborato alla redazione di progetti in ambito turistico/ricettivo (Hotel, villaggi turistici) durante la collaborazione con lo studio di Architettura e Urbanistica dell'Arch. Serapioni a Torino (Sharm El Sheik, Sinai, Egitto e Tulum, Mexico). Nel medesimo studio ho avuto modo di approfondire anche i temi dell'interior design.
Ho collaborato con il Comune di Torino, divisione edilizia residenziale
pubblica, alla redazione di progetti di riqualificazione urbana e di edilizia residenziale per l'università.
Ho progettato architettura per la residenza e mi occupo in questo ambito di progettazione e architettura di interni per abitazioni private e uffici.
Dal 2002, in collaborazione con l'Arch. Daniela Rubat Borel, mi sono occupato di progetti finalizzati alla richiesta di autorizzazione commerciale ( Mondovicino outlet, Vicolungo Outlet, Parco commerciale Stadio delle Alpi su incarico di Juventus F.C., Centro sequenziale Serravalle Scrivia/Novi su incarico di Gruppo Praga, Centro sequenziale Banchette, Ivrea, Centro commerciale Carmagnola).
Ho progettato Negozi, Show Room e ho seguito come direttore lavori l'allestimento di svariati punti vendita in Italia e all'estero per un importante gruppo internazionale (Roma, Napoli, Bari, Bologna, Modena, Imola, Senigallia, Serravalle, Pesaro, Zagabria tra gli altri).
Dal 2007 ho studio in Alba ove prosegue il mio percorso legato alla progettazione di interni e design. Opero inoltre su progetti di nuova costruzione e di ristrutturazione edilizia con particolare attenzione ai temi dei sistemi costruttivi.
Dal 2010 sto seguendo progetti mirati all'architettura delle cantine curando progetti specifici per importanti produttori di Langhe e Monferrato.
Dal 2019 sono membro della COMMISSIONE LOCALE PAESAGGIO per l'unione dei comuni delle colline di Langa e del Barolo (PAESAGGI VITIVINICOLI DEL PIEMONTE: LANGHE ROERO E MONFERRATO – UNESCO WORLD HERITAGE SITE) istituita in capo alle misure speciali di tutela e fruizione dei siti di interesse culturale, paesaggistico e ambientale inseriti nella lista del "patrimonio mondiale" e posti sotto tutela UNESCO.
I was born in 1968, I graduated in Architecture at the Turin Polytechnic in 1996 where I also obtained my professional qualification in 1997.
Under the Order of Architects and Landscape Architects of Turin (n. 4642), I collaborated with planning of projects in tourism / hospitality (hotels, tourist villages) whilst with the studio of Architecture and Urbanism of the Arch, Serapioni in Turin (Sharm El Sheikh, Sinai, Egypt and Tulum, Mexico). In the same study I was able to further explore the themes of interior design.
I have collaborated with the City of Turin, public housing division regarding the preparation of projects for urban regeneration and university housing.
I was architectural project manager for the residence. Working in this field of design and interior design for private homes and offices.
Since 2002, in collaboration with Arch. Daniela Rubat Borel, I have dealt with projects aimed at the commercial authorisation permits and plans (Mondovicino outlet, Vicolungo Outlet, Park commercial Stadio delle Alpi on behalf of Juventus FC, Centre sequential Serravalle Scrivia / Novi on behalf of the group Prague, Center sequential Bancroft, Ivrea, Mall Carmagnola).
I have designed Shops, Showrooms and managed protects in several locations in Italy and abroad for an important international commercial group (Rome, Naples, Bari, Bologna, Modena, Imola, Senigallia, Serravalle, Pesaro, Zagreb among others).
Since 2007, I have been based in Alba where my path continues to be linked to interior design and projecting interior design. I have also worked on new projects in construction and building renovation with a strong focus on the importance of energy efficient buildings and green architecture.
Since 2010 I have followed projects targeted to the reconstructive and restorative architecture of the wineries. Specific projects include major manufacturers in Langhe and Monferrato.
Since 2019 I have been a member of the LOCAL LANDSCAPE COMMISSION for the union of the municipalities of the Langa and Barolo hills (WINE LANDSCAPES OF PIEDMONT: LANGHE ROERO AND MONFERRATO – UNESCO WORLD HERITAGE SITE) established under the special measures for the protection and use of the cultural, landscape and environmental interest included in the "world heritage" list and placed under UNESCO protection.